Union Hospital is the First Hospital to Install the System in Hong Kong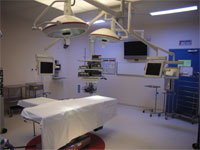 Early developments in minimally invasive surgery in the last decade have resulted in the use of a variety of cumbersome, time-consuming surgical equipments, and presented a potential risk to patient safety. Advances in computer technology and the large-scale digitalization of equipments mean that these "isolated stand-alone systems" are to be phased out.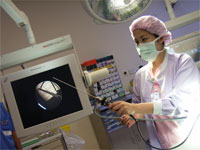 The networking of hard- and software components in the operating rooms of Union Hospital (offered by the KARL STORZ OR1TM) is a modern and efficient approach to allow complete control of the entire operation within the sterile area. Our equipments including video cameras, light sources, insufflators, suction and irrigation pumps, operating table etc...are connected by the STORZ Communication Bus (SCB) Interface. From these, our chief surgeon could apply the touch-screen or voice-control systems to maximize the use of these equipments most conveniently.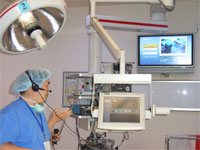 The integrated digital recording system installed in the Union Hospital theatres simplifies the archiving of image, video and audio data of important surgical steps and results. This information could be used for both medical documentation and scientific evaluations.
In addition, telemedicine applications, such as video conferencing and live demonstration of operation for teaching and training purposes, can be controlled directly from the operating area. This also allows the 'virtual presence' of a remotely placed expert, who would be able to provide a second opinion to an ongoing live operative procedure at Union Hospital from any connected site in the world.