About Us
Endoscopy and Day Surgery Centre has been in service since January 2008. For enhancing the standard of endoscopy services, our centre is fully renovated and occupies 10,000 square feet in September 2017. Our mission is to provide the highest quality of services and more comprehensive range of quality care for our clients in Hong Kong as well as in the region.
A team of dedicated and experienced expert gastroenterologist, surgeons and radiologist with state-of-the art technology are in place to offer multi-disciplinary approach of investigation and treatment on gastrointestinal diseases.
The newly renovated Endoscopy and Day Surgery Centre is conveniently located on the first floor of Medical Centre, is well-equipped with comfortable waiting area, spacious examination rooms (positive and negative pressure ventilation system), quiet recovery area and cozy post-operative day bed observation area, advanced state-of-the-art endoscopy system and equipment for performing top-quality diagnostic and therapeutic services.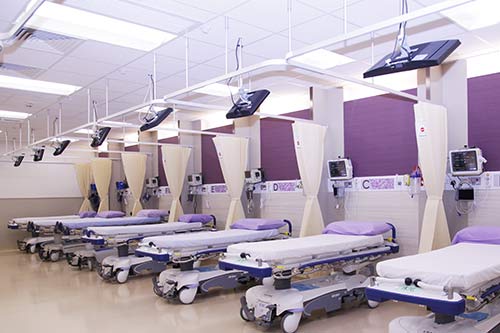 Day beds
Quiet recovery area and cozy post-operative day bed observation area.

One-stop Service
The Centre is committed to provide one-stop service for patients from consultation, diagnosis to treatments.

Safety for patients
Professional Medical Team
The Centre is staffed by experienced doctors and a dedicated team of highly trained medical professionals to ensure patient safety.

Accredited by ACHS Organization and Department of Health
Service Hours
Monday to Saturday
7:15am - 8:00pm
Sunday and Public Holiday:
9:15am – 1:00pm
Email: edc@union.org
AIA Union GI & Specialists Centre (AIA Union) is jointly established by Union Hospital and AIA Hong Kong. The Centre offers
Gastrointestinal endoscopy services
Consultation, diagnosis and related minor day surgeries in the initial stage
Located at AIA Tower in North Point, the Centre occupies a total gross floor area of over 5,000 square feet. Integrating Union Hospital's expertise in clinical governance and AIA Hong Kong's experience in offering medical protection services, the Centre offers affordable and high quality medical services to the general public.